Stop Pain & Regain Mobility, Naturally
The Most Comprehensive & Holistic Stem Cell Therapy Available Today
If pain interferes with your day to day life, there is hope. 
Turn back the clock. Regenerate your body to like it was before pain kept you on the sidelines.
The good news is there is now safe, effective technology that uses your own naturally occurring stem cells to turn back the hands of time and regenerate tissue to dramatically reduce inflammation, increase mobility, and live your best life.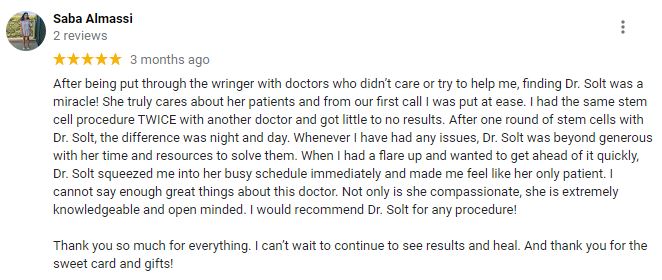 Hi, I'm Sabrina. My patients call me Dr. Solt. I've been in the regenerative medicine field since 2013. My greatest joy is helping my patients recover their mobility, reduce their pain, and live like they did years before.
My practice is geared towards helping people just like you finally feel your best. I specialize in providing natural solutions for pain and acting like a detective with your overall health. It is my goal to have you feel truly cared for.
The best days at work are the ones where I get to follow up with patients and hear about all the things they are now able to do as a result of us working together!
As a licensed naturopathic medical doctor, I am here to provide the highest level of care in a warm and welcoming environment that allows for true healing.


Your First Step To A Pain Free & Active Life Begins Today
You shouldn't have to waste years of your life being sick, in pain, or unable to do the things you enjoy.
You're just one phone call away from finding out just how easy and effective it is to use your own stem cells to heal.
It's time to go back to living a life you love.
Click the link below and schedule your initial call with Dr. Solt.
Step 1: Fill Out Our Online Form
Step 2: Book Your Free Phone Consultation
Step 3: We Will Evaluate Whether Or Not Stem Cells Are Right For You
Step 4: We Build Your Customized Treatment Plan
Step 5: Start Feeling Better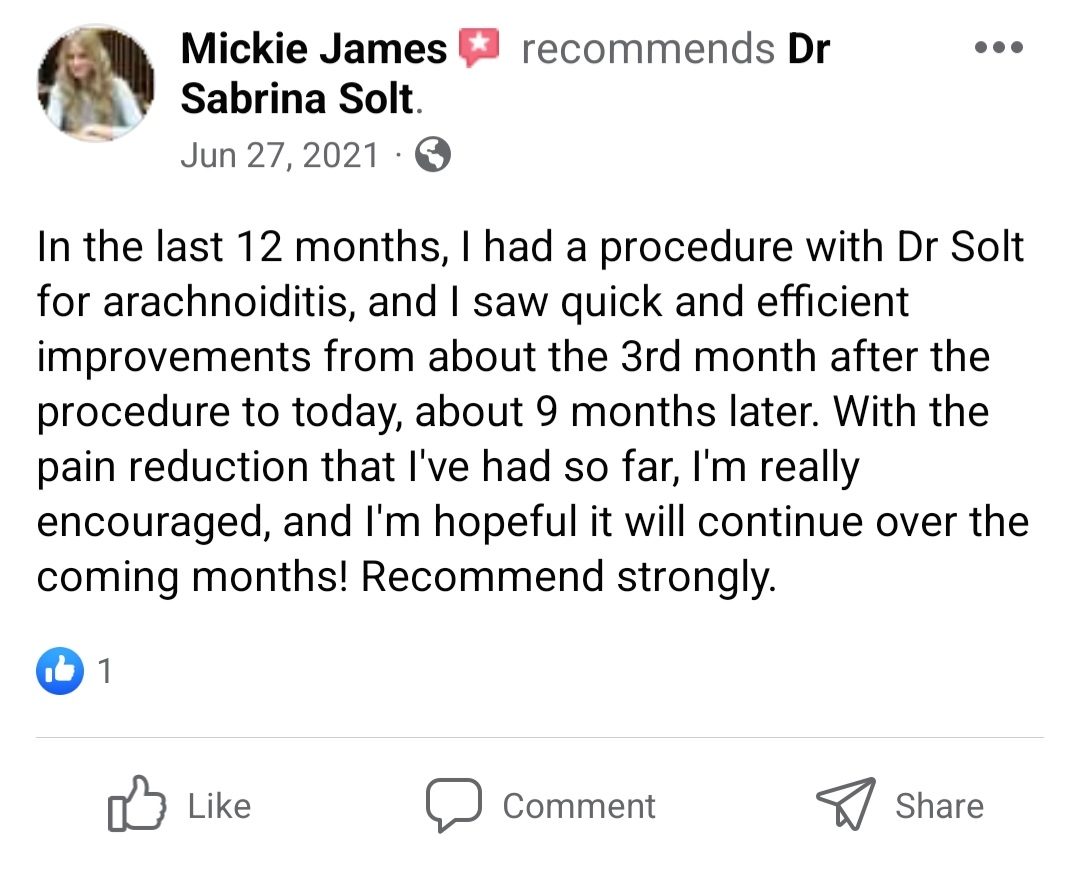 Your Personalized Plan Includes:
Welcoming You Like Family
After deciding to work together, we get started right away.
We will be sending you a Success Kit. It contains items that were hand selected by Dr. Solt to jumpstart the healing process.
You will also be given access to our learning campus, where we provide exclusive resources and content. This was made with a singular goal: to get you results faster, better, and easier.
1:1 Consultation With Dr. Solt
You are in the best hands.
Dr. Solt will work like a detective, thoroughly analyzing every aspect of you to come up with the most strategic and personalized treatment plan possible. 
Your Procedure
So, what can stem cells actually treat?
Due to the high safety profile and efficacy of stem cell treatments, we are able to treat a wide range of problems in areas of the body including: low back, neck, shoulders, knees, hips, ankles, wrists, and more.
Based on Dr. Solt's nearly a decade of clinical experience of getting people out of pain with regenerative medicine, you can be sure her approach is the one you need.
After The Procedure
We don't leave you hanging like some of those other clinics.
In fact, we track your progress and provide care for 6 months after your procedure with us. 
It matters to us to continue to offer support as you heal. 
6 Month Follow Up Appointment
At your 6 month mark, you will meet with Dr. Solt again.
During this time together, you will discuss all the changes you have experienced as a result of this program and review strategies to continue your healing and maintain all the progress that has been made. 
Who We Work With
We can't wait to see if working together is a great fit!
Ultimately, the people who will be benefit most from working with us include:
Those with a positive mindset who are ready to heal 
Those who are willing to make changes to their diet & lifestyle in order to support healing
Those who have realistic expectations about the speed at which stem cell therapy can work
Those who have realistic expectations about what stem cell therapy can accomplish
Those who are kind, open hearted, full of love, and operate from a place of possibility and gratitude.
If any of those sound like you, great! We can't wait to hear from you. Apply with the button below.
You Could Be Feeling Better In The Next 30 Days